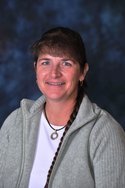 (Photo provided by WYDOT) Longtime District Engineer Shelby Carlson left the Wyoming Department of Transportation on Friday, September 23 for an administrative position with the Wyoming State School Facilities Division in Cheyenne.
WYDOT District Maintenance Engineer Pete Hallsten of Basin will serve as the Interim District Engineer until Carlson's permanent replacement is hired.
Carlson served as WYDOT's district engineer in Basin for 12 1/2 years.
"I will miss all the people I have had the opportunity and privilege to work with in District 5 and with WYDOT," Carlson said.
Carlson's career with WYDOT spans 27 years, and it includes five years working in Construction, five years in Project Development, 3 1/2 years as a specifications engineer, and a year developing WYDOT's Winter Research Services Program, all in Cheyenne. She holds degrees from Central Wyoming College in Riverton and the University of Wyoming in Laramie.
Carlson will spend the first year of her new state government position traveling to each of Wyoming's 48 school districts to build relationships with local school officials and learning about their facilities.
A Riverton native, Carlson and her husband Mike plan to move to Cheyenne next year after their youngest daughter, Julianne, graduates from Greybull High School in May. Their oldest daughter, Ceirra, is a student at Sheridan College.
"District 5, and specifically Central and Northwest Wyoming, is a special place," Carlson said.
Hallsten joined WYDOT as an engineer in June of 1990. He was promoted to resident engineer in Pinedale in 1997, and he transferred to Jackson in 2000 and served the Jackson area until 2011. In 2011, he transferred to Pinedale as resident engineer. He has served as WYDOT's district maintenance engineer since January of 2015.
Hallsten
was born in Fort Collins, Colo., and was raised in Fairbanks, Alaska. His education includes a bachelor's degree in civil engineering from Colorado State University.
Hallsten
and his wife, Shelly, have two sons. Hallsten and his wife live in Worland.
Hallsten can be reached at 568-3400.
WYDOT District 5 covers central and northwest Wyoming, including South Pass, Lander, Riverton, Shoshoni, Dubois, Thermopolis, Worland, Ten Sleep, Basin, Greybull, Lovell, Powell, Cody and Meeteetse.