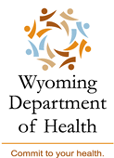 Press Release – Many Wyoming residents who can be described as "caregivers" for family members or friends may not recognize their role or realize support is available to help manage their responsibilities, according to the Wyoming Department of Health (WDH).
"Family members are often the major caregivers of long-term care," said Jeanne Scheneman, National Family Caregiver Support Program manager with WDH.  "These caregivers are generally acting out of love as well as need, but it's not easy for them."
"People who regularly check in on family members and/or friends, help loved ones dress or bathe, clean their homes or make their meals should realize they are indeed caregivers," Scheneman said.
The National Family Caregiver Support Program helps adults who are caregivers for a loved one 60 years of age or older or for someone of any age who has Alzheimer's disease or a related dementia condition. Support is also available for parents or other relative caregivers, 55 years of age and older, who find themselves raising their grandchildren or related children 17 years of age or younger or helping an adult under 60 who has a disability.
Assistance offered through the program can include respite support to allow caregivers to have temporary breaks from responsibilities, support group connections and help providing specific, needed services.
"We know ongoing caregiving can be rewarding, but it can also lead to emotional, physical and financial burdens," Scheneman said. "We tell people the first rule of taking care of others is to take care of yourself first."
Scheneman said caregiver support can play an important role in avoiding or delaying out of home placements. "That's a goal for many families," she said.
Help from the program is available in all Wyoming counties except Albany, Crook, Platte, Sublette and Weston.
For more information about the National Family Caregiver Support Program, which is offered through WDH, call 1-800-442-2766 or send an email to wyaging@wyo.gov.