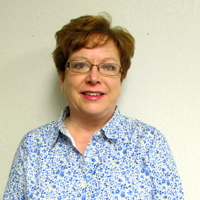 Title: Account Executive
Email: gwilliams@bighornmountainradio.com
Phone: 307-217-1222
Gail is an Account Executive at Big Horn Mountain Radio and she sells radio advertising to anyone who wants to increase their sales and grow their business. She will develop a radio campaign that fits your needs and lay out a schedule on the stations your business will benefit from the most.
She loves her job because it is so rewarding to meet the needs of her customers and watch their business grow and prosper through radio advertising. Her favorite thing about working in radio is seeing the benefits people experience through advertising because she has experienced it herself as the previous owner of City Liquor in Buffalo.
She loves to travel at home and abroad. She has been to 38 of the 50 states and most of that travel was touring on a motorcycle. Her travel abroad included Canada, Mexico, Sweden, Italy and Greece. So far her favorite place is Italy.
She has bred and raised dogs; wired haired pointing griffons. She volunteers in her community and enjoys meeting new people. She loves to listen country music from the 50's and 60's, old Rock N Roll; especially the Doobie Brothers. Manheim Steamroller is a favorite at Christmas time.
Reading all types of books and watching movies is a favorite pass time especially in the winter. When the weather is nice she loves to go for long walks with family and friends. They are top priority for her.