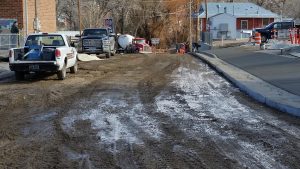 Road paving appears to be in the plans this week for two pieces of the Lobban Avenue Project.
Brent Bennett of Nelson Engineering reported on Friday that Fetterman Street between Main and Western Avenue will be ready for concrete on the street once curb, gutter, and sidewalk work is completed.
Lobban Avenue between Fetterman and Bennett Street will be ready for resurfacing once grading is completed.
Simon Construction has been making necessary improvements to utilities for most of the last two weeks.
Weekly Construction meetings take place on Tuesdays at City Hall at 10:00 and they are open to the public.