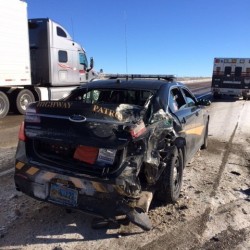 Press Release – The snowstorm that traveled across Wyoming last week on Nov. 17th and 18th kept all members of the Wyoming Highway Patrol extremely busy.
Troopers with the Patrol investigated a total of 321 crashes statewide while WHP Dispatchers answered 1,450 calls from 7:00 a.m. on the 17th until midnight on the 18th. 55 of the 321 crashes involved injury while the remaining crashes involved property damage only. No fatal crashes resulted during the two days of inclement weather.
Troopers and dispatchers also resolved 316 calls for broken down or stranded motorists and hazard events such as vehicles blocking highways or cars stuck in the road.
On Nov. 18th around 9:00 a.m., a WHP Trooper was in his vehicle at the scene of a crash near mile post 138 on Interstate 80, approximately 38 miles east of Rock Springs, when a tractor trailer combination lost control on the icy road and collided with the parked patrol car. The Trooper was taken to a local hospital for minor injuries but is expected to make a full recovery.
The Patrol wants to remind everyone to please slow down and increase following distances when you experience inclement weather and to slow down and/or move over when approaching emergency vehicles with lights flashing.
END
Release Contact: Sergeant David Wagener / 307-777-4306.
Information presented in this release is considered public information and may be distributed or copied. Use of appropriate byline/photo/image credit is requested. While the Wyoming Highway Patrol makes every effort to provide accurate and complete information, various data such as names, ages, etc. may change during the course of the investigation.