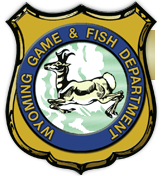 Press Release – Youth hunters will have special opportunities this fall to pursue pheasants in the Buffalo and Story areas. On Saturday, November 19, 2016 there will be a youth only pheasant hunt at the Wyoming Game and Fish Commission's Bud Love Wildlife Habitat Management Area (WHMA) and a week later on November 26 & 27, youth only pheasant hunts will be held at the Fort Phil Kearny Historic Site.
"This is the first year Game and Fish is having a youth only pheasant hunt on the Bud Love WHMA", said Lynn Jahnke, Wildlife Management Coordinator for the Sheridan Region of the Wyoming Game and Fish Department. "Game and Fish has youth only pheasant hunts in several other places in Wyoming. They are popular and an excellent way to introduce young people to hunting. We decided to have a hunt on one of the WHMA's in the Sheridan Region."
Only youth hunters, those under the age of 18 years, will be allowed to hunt pheasants. All youth hunters will be required to have a $12.50 pheasant special management stamp to hunt and be properly licensed. Hunters under the age of 14 must be accompanied by an adult; however, the adult is not allowed to take pheasants on the youth hunting days. Youth hunters participating in these hunts will either need to have successfully completed a Hunter Safety Course or must be enrolled in the Hunter Mentor Program.
Pheasant hunters on the Bud Love WHMA are required to wear one piece of fluorescent orange clothing while hunting. There will be no limit on the number of youth hunters allowed at the Bud Love WHMA and they will be allowed to come and go throughout the day.
Hunters entering the Fort Phil Kearny Historic Site are required to have either an annual State Park Permit or $2.00 daily use permit. Hunters using the Historic Site will be required to sign up during business hours to obtain a permission slip prior to hunting. Hunters can either stop by the Historic Site or call (307-684-7629) to reserve a permission slip. There will be six permission slips available to hunt in the morning and six in the afternoon of each hunting day.
Hunters can arrive at 8:00 a.m. and start hunting at 8:30 a.m. for the morning hunt or arrive at 12:00 noon and start hunting at 12:30 p.m. for the afternoon hunt.